Never run out of fresh, artisan roasted coffee.
Sign up for our monthly digital newsletter and get the details on promotions and more!
Bono Coffee Roasters is excited to announce the opening of our newest location in Bridgeland, Calgary. This new location marks our second coffee shop in the city, and we are thrilled to be expanding our presence in such a vibrant and diverse community.
Our new location in Bridgeland is situated on 1st Avenue NE, just a few blocks away from the Bridgeland-Memorial LRT station. This location boasts a spacious and inviting atmosphere, featuring natural light and ample seating for customers to relax and enjoy their coffee or snacks.
At Bono Coffee Roasters, we are passionate about providing our customers with the highest quality coffee and espresso drinks, made with beans that are ethically and sustainably sourced. Our coffee is roasted in-house using state-of-the-art equipment, ensuring that each cup is brewed to perfection.
In addition to our exceptional coffee, we offer a range of fresh, delicious pastries and snacks. Our menu includes an array of sweet and savory options, including croissants, muffins, sandwiches, and salads, all made with the finest ingredients.
At Bono Coffee Roasters, we pride ourselves on our commitment to sustainability and community. We work closely with local suppliers and farmers to source our ingredients, and we strive to minimize our environmental impact by using compostable packaging and reducing waste.
We are excited to become a part of the Bridgeland community and to get to know our new neighbors. Our team is dedicated to providing friendly and welcoming service, and we hope to create a warm and inviting space where our customers can relax and connect with others.
We encourage everyone to stop by and say hello, try our delicious coffee and snacks, and see what makes Bono Coffee Roasters a unique and special addition to the Bridgeland community.
Thank you for your support, and we can't wait to see you at our new location in Bridgeland!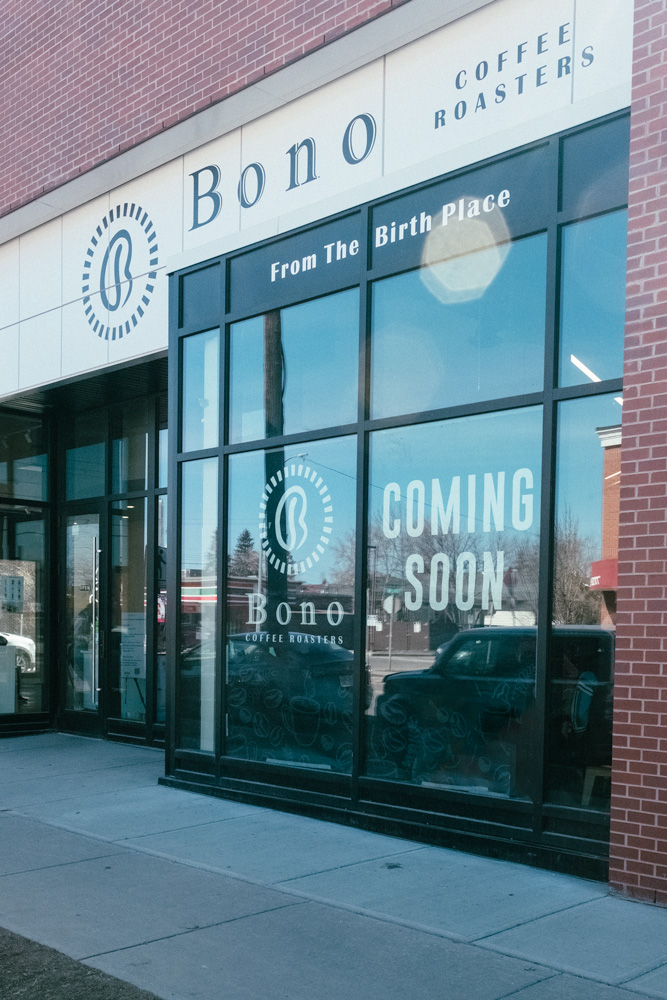 Never run out of Fresh coffee. Subscribe today to save $15 every time you order. 
At Bono Coffee, we are committed in developing exceptional specialty coffee. Bono Coffee is a family owned business based in Calgary, sharing our deep-rooted Ethiopian coffee culture to our community.
Growing up in Ethiopia, Bono Coffee founders, Dawit Wubie and Danait Tesfay have first hand experience in the daily life of hand roasting coffee and transforming it into the most magical cup of coffee ever tasted.

It all started in 2012, when Dawit traveled to Addis Ababa, Ethiopia for business venture and joined his sister in the coffee roasting business and supplying it to local shops and stores. From there, his passion for coffee flourished and he made it his goal to bring Ethiopian coffee to his community, here in Calgary and to the world.

Having to start a family, Dawit's coffee dream was put on hold. In 2019 Dawit together with Danait decided to start a small batch coffee roasting company and supplied it to his community within various farmers markets. Bono Coffee Roasters was born and now people everywhere can experience that magical tasting cup of coffee. With amazing community support and feedback, Bono Coffee is committed to grow and serve the local community.
Visit our new shop where we roast and brew coffee in front of your eyes!
Taste and Experience Bono Coffee.

Making a difference
We deeply value our farmer and supplier that consists of 70% women employees. They also ensure that each farmer is paid fairly through the out-growers program while supporting their community by building roads, hospitals and schools.
It is no secret that the worlds most delicate, complex and finest specialty coffee comes from Ethiopia, where our deep-rooted coffee culture comes from. We believe our coffee does not only make a great tasting cup of coffee but should be means to bridge coffee farmers to their communities and individuals.
Working directly with farmers and producers, with the goal of sustainable and profitable growth is our core value.
Bono Coffee gives you more than just a cup of coffee, it gives you a piece of Ethiopian culture.
Manhattan
Hours of Operation
Bridgeland Hours of Operation
Bono Coffee | Manhattan
4704 Manhattan Rd SE, Calgary, AB T2G 4B5, Canada
Bono Coffee | Bridgeland
737 1 Ave NE, Calgary, AB T2E 0B8
Amazing coffee, one of the best cappuccinos I have ever had. The customer service was phenomenal too.
Miles Cantafio
2022-12-14
Fantastic little cafe. Beans roasted fresh on-site. Staff exceedingly friendly and very reasonably priced, especially for the quality of the drip. So fortunate to have it close to work. . .
Best service , good coffee. Great combo:)
Great coffee, very friendly and knowledgeable owner. Will be back soon.
Very cozy, but eerily quiet if it's not busy. They carry their own branded coffee beans. Handful of parking spaces just right outside/behind the building. Coffee menu consists of the typical common beverages.
First time coming here today and the selection of drinks was great as well they had options for dairy free which I appreciated. I ended up ordering a earl grey latte and it was amazing it wasn't to sweet and very comforting to drink the environment was quiet not very busy and the girl was very kind at the front our drinks took less than a few minutes to make. I will be back to try the coffee soon! They also has a selection of baked goods it smelt amazing and very clean. It's nice to see a local coffee shop.
Freaking delicious coffee and really nice owner.
Michelle Savoie
2022-10-15
Really impressed with his coffee shop. The latte was mind blowing. Owner was super friendly and gave us a little tour of his roaster. We will be back!
Great coffee and great service!